Post by douglaslam on Jul 3, 2014 8:51:41 GMT -5
Tyuti1668, it is a good story. I have no idea where the ferry is plying its trade. I'll get Ming to take me there in October. The man's Cantonese is hard to understand because it is heavy in our dialect. I couldn't open the link at first, now it's OK.
------------------------------------------------------------------------------------
I still have a few more snaps from my last trip to China to show. I was in a park dedicated to a cluster of villages under the old name of Leung do 良都 or Liangdu. Nowadays, it is better known as Southern District of Zhongshan City. Our county Chungshan is now Zhongshan City. Leung Do comprised many villages, the better known of which include Chuk Sau Yuen 竹秀園 of the Gock / Kwok 郭 , Sa Chung 沙涌 of the 馬 Ma , Hang Mei 恒美 of the Lee李, and Dutou 渡頭 of the 雷 Louie, families. There is Buck Toy 北台 which hosts many family names. Google Buck Toy village, and there are many entries.
Villagers from those families spread far and wide throughout the world. Most of them, even those born overseas, care very much about their ancestral origin
I was in the same park two years earlier when it was still putting on the finishing touch. I made a return trip to see the end results. The park's main theme is on glimpses of village life as it was a mere thirty or so years ago and some of their outstanding villagers.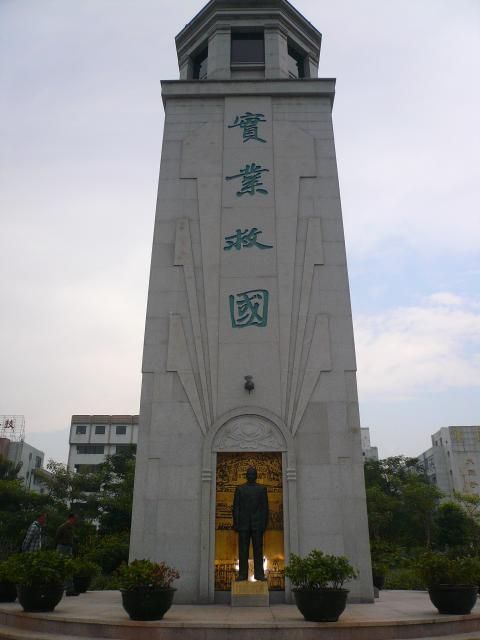 The most prominent feature is this obelisk. On each side, it highlights an outstanding villager from the district. Here, it reads Industry to Save the Nation. This is a statue of one of the Gock brothers form Chuk Sau Yuen. The Gock or Kwok brothers went to Australia in late 19th. century. They did so well in the fruit wholesale business, especially bananas, that they, had a stranglehold in the market. They couldn't expand their business any further because of discriminatory laws. The brothers returned to China and Hong Kong, and ventured into department store retailing. They modelled their business on Sydney's well-known department stores David Jones and Anthony Hordern. The Gocks were into retailing ( Wing On Department Store,) banking, insurance, textile, entertainment and more in China and Hong kong.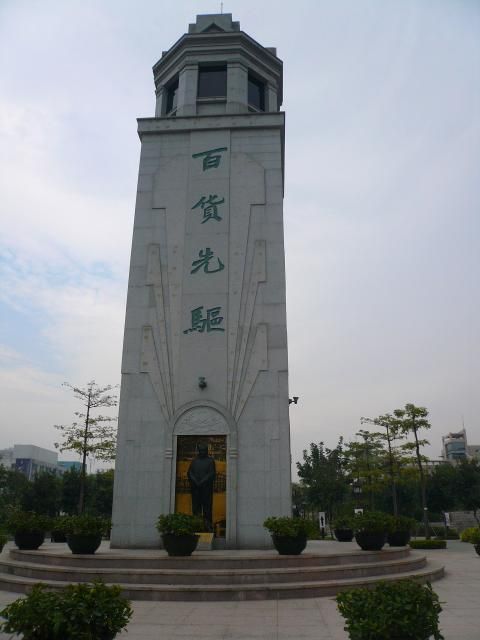 This one reads Department Store Pioneers. It is about Ma Ying Bew from Sa Chung. He, too, returned from Australia and set up Sincere Deparment Store in Hong Kong and Shanghai. He was a trend setter; by introducing fixed pricing, no haggling. He employed female sales stuff. Many people went to his stores simply to see female staff at work. I visited Sa Chung more than once. The small village is all about Ma Ying Bew. There are buildings, parks, monuments, bridges, roads, schools, hospice named after him.
There were four big department stores in Shanghai before the devil Mao arrived on the scene. Their creators were all from my county. There was keen competition and friendly rivalry among them. We are very proud of that fact.
The signage in the centre says River Ferry Pier. In short in Cantonese, Dutou. Dutou, is the home to the Louie families. The Louies distinguished themselves in many lands. HY Louie, of London Drugs and a grocery chain fame, of BC Province in Canada, is one of the biggest family-owned business in the province. Google HY Louie to read more.
Here, in my home state, I know of many Louies from the same village. The Louies were also prominent in many regional centres like Moree and Inverell. Dutou is just a short distance after crossing the river from my village. It speaks a different dialect which we understand well. Two years ago I was there to feel the good feng shui and vibration of the village. My party of three was well received because we were from just across the river. I dropped a few names of the people I knew in Sydney, and the villagers dropped their guard. I was shown the genealogy register. But time did not permit me to visit the grave of HY Louie and pay my respect.
Now, let's have a look what village life and farming was like. I feel privileged to have seen it all in my early childhood.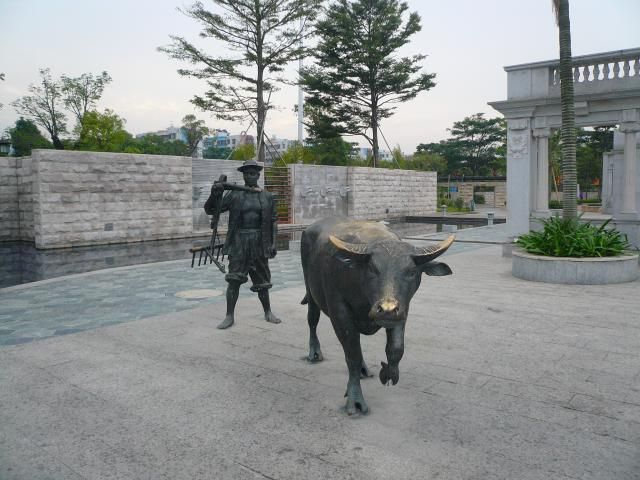 This is a peasant farmer, his plowshare, and trusty water buffalo. His trousers are rolled up because he would be working in almost knee -deep in a water-logged and muddy field.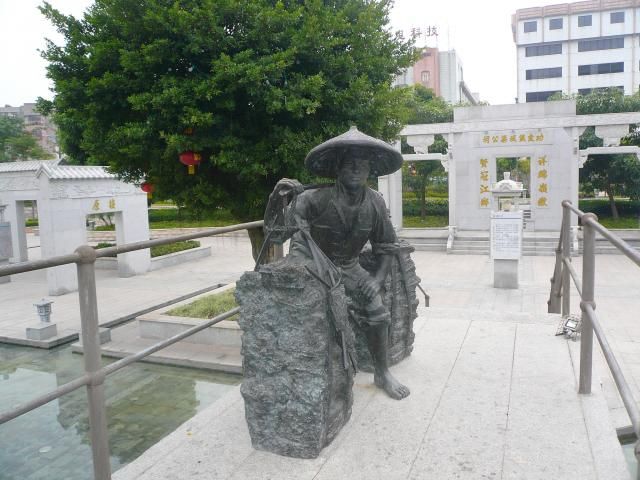 We have a farmer here having a rest break. He is carrying rice sapling for transplanting. The load is heavy, and he has a broad brim hat to shield him from the hot sun. It is back-breaking work in transplanting rice stalks from nursery bed to the field. He also has line markers similar to a bricklayer's to guide him.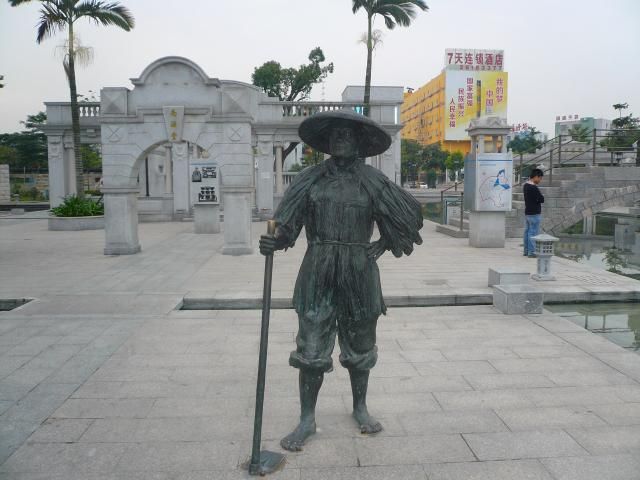 This farmer is in his wet weather gear. His raincoat is made of layers of bamboo leaves. This was a common sight in my younger days. You made do with what was available. There weren't many shops and few luxury items like raincoat, and money was always tight.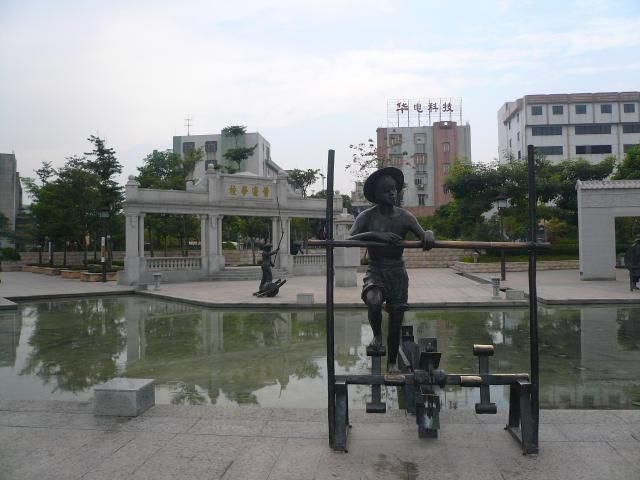 This is a foot operated contraption for irrigation or drainage. I saw it in action often. For example, our own fish pond was drained by such devices. Sometimes, you'd need two or more contraptions in relay, when water is moved from the centre of the pond for a second 'pump' to drain it to the river. It is labour intensive and time consuming.
Here, we have a woman beating the harvested rice stalk to separate the grain. The tool used is made of two tree branches or timber poles, with a swiveling joint. As I remember, the work was usually done by men at a village square, In late afternoon or early evening, a small crowd would gather to watch, usually a three man team, beating the stalk one man at a time, and in rhythm. This was village entertainment, and the rhythmic beat was mesmerising. I loved watching it.
After the rice is dried in the sun, the next task is to separate the chaff from the solid grain. This is a hand-operated winnow. The grain is fed through the funnel on top, and a current of air would sort out fluff from the grain. All very simple and effective. The laws of physics at play.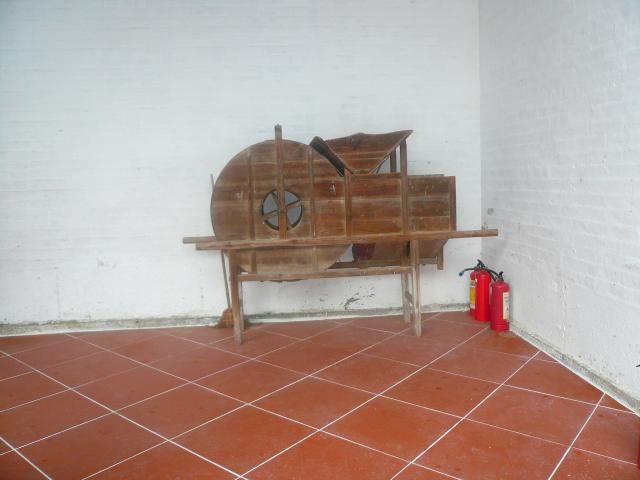 This is a preserved example of a winnow. It was commonplace not so many years ago.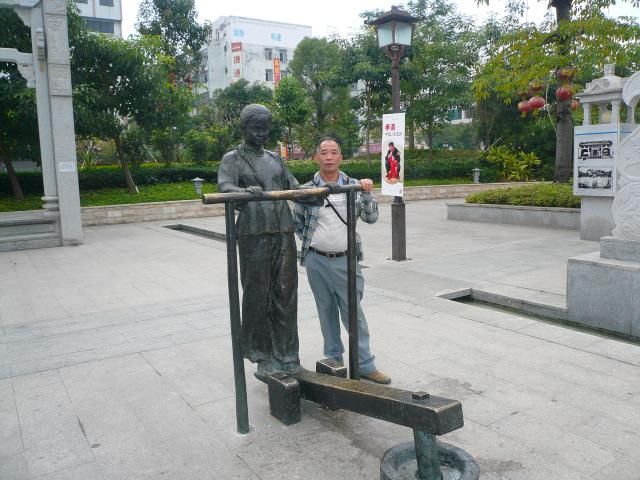 The rice grain is sold or collected as tax and normally sent to a rice mill. What the farmer keeps is processed at home. This is a giant pestle and mortar if you like. Normally, this contraption is found indoor, and there is only one in each neighbourhood. Rice or other grains may be pounded into flour or powder by a team of two women working in unison. There needs to be perfect teamwork and coordination, or someone's hand would get crushed.